I have three items available: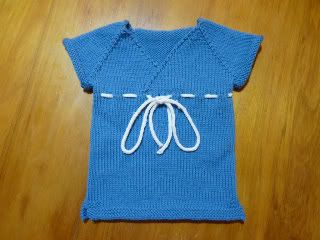 A shortsleeved Seamless Kimono Sweater knitted in WOOLganics organic merino wool. This is beautifully soft, ideal for babies. This is a 3 - 6 month size and is ideal for the autumn and winter months, worn with a long sleeved top underneath. $30 plus postage of $3.50.
SOLD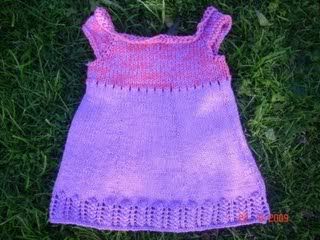 I also have a size 2 Kaia Babydoll swing top knitted in Bendigo Woollen Mills cotton. This was my first ever knit of this adorable pattern and I cast on a little loosely and the neckline rolls a bit more than I'd like. I'm offering this at a sale price of $20 plus postage of $3.50.
SOLD
And, finally, this is a gorgeous wee cardigan I started for my first daughter about 8 1/2 years ago, but it didn't get finished until very recently! It is not part of my custom orders, bit is knitted in lovely, soft 4 ply baby wool. I'd like $20 plus $3.50 postage.
If you are interested in any of these items, or would like me to knit either the kimono top or Kaia Babydoll, or any of my other custom items in the colour and yarn of your choice, please contact me at aligknits@gmail.com,